On April 8th, 2013, Sara Montiel, one of the most beautiful and charismatic film stars to ever grace the silver screen, died suddenly of cardiac arrest in her Madrid penthouse. She had recently celebrated her 85th birthday and had assured family, friends, and media at her party that "she would never consider retirement." Unfortunately fate had different plans. The news of her passing and her obituary ran in every major newspaper in the world in sixteen different languages, witnessing her enormous popularity and widespread appeal. She left behind a legacy of films and recordings that had already turned her into a legend even during her life.
GENESIS
Sara Montiel was born in the village of Campo de Criptana, province of Ciudad Real, in the Castille-La Mancha region of Spain, on March 10th, 1928. Her parents were Isidoro Abad, a peasant who later operated a bar, and María Vicenta Fernández, housewife and door to door beautician. The future star was christened Maria Antonia Alejandra Abad Fernández. Barely in her teens she won a beauty and talent contest held by Cifesa, the most influential film studio at that time in Spain. As the winner, she was signed to a movie contract and in 1944 made her debut in the film "Te Quiero Para Mí" credited in the cast as "Maria Alejandra"... In spite of the small part, the young actress caught the attention of producers and directors who realized her enormous potential and by the end of 1944 she was given the starring role in the film "Empezó En Boda", which introduced her with a new image and a new name: she was now a sophisticated blonde named SARA MONTIEL...
(NOTE: Sara was her grandmother's first name; Montiel was chosen after "Campos de Montiel" or Fields of Montiel located in La Mancha, the land of her birth. Soon her colleagues started calling her "Sarita" ("Little Sara") due to her extreme youth.
The nickname caught on with the press and the public consequently, since then, both Sara and "Sarita" have been used in credits and publicity...)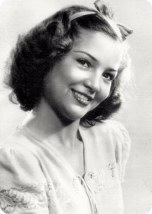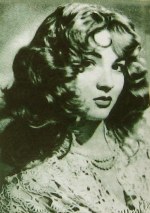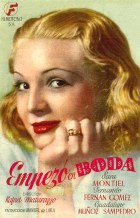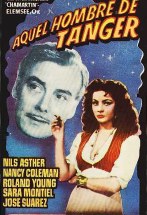 In the next four years Sarita Montiel appeared in 14 films including her first international success "Locura de Amor" (1948) which led to a contract in Mexico where she established herself as one of the most popular film actors of the decade making a total of 13 films between 1950 and 1955. Due to her popularity in Mexico, Hollywood producers showed interest and she was formally introduced to American moviegoers in "Vera Cruz" (1954) starring Gary Cooper and Burt Lancaster. Later she filmed for Warner Bros. "Serenade" (1955) with Mario Lanza, Joan Fontaine and Vincent Price directed by Anthony Mann who became her first husband two years later.
A MEGA STAR IS BORN
After starring in Samuel Fuller's "Run Of The Arrow" (1957) with Rod Steiger, Brian Keith and Charles Bronson, Sarita went to Spain to film "El Último Cuplé" (The Last Song), a musical production which became the biggest box-office success in Spain's film history. It played for over a year in the same theaters in which it opened. A similar reaction followed in Western Europe and Latin America. Sarita Montiel had become the most popular actress-singer of 1957 and a national treasure for Spain.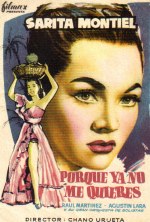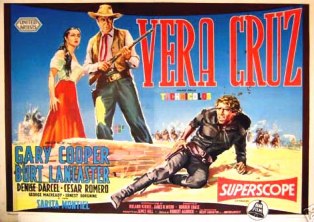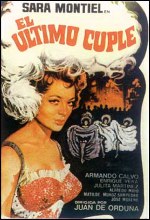 The unprecedented success of "El Último Cuplé" threw a wrench into her Hollywood career as she was offered a multimillion dollar contract to star in four films in Europe. Her next vehicle "La Violetera" (The Violet Peddler) confirmed Sara's popularity and broke the box-office records set by the previous movie. The theme song from
"La Violetera" became Montiel's signature song. The soundtrack albums from both films reportedly outsold Presley and Sinatra in the world market. From then on, Sarita would combine the making of films with the recording of highly successful albums and live concerts.
The next films ratified her screen image and mass appeal. "Carmen, la de Ronda" (1959), "Mi Último Tango" (1960), "Pecado de Amor" (1961) were all outstanding commercial successes and proved that the Montiel phenomenon had arrived to stay. By 1962 she had become a legend to millions worldwide reaching markets that had previously been uncharted territory for Spanish cinematography. "La Bella Lola" (1962), "La Reina del Chantecler" (1963), "Noches de Casablanca" (1963) spread Sarita's popularity to Eastern Europe, Greece, Turkey, Israel and Japan. More records and more films followed: "Samba" (1964), "La Dama de Beirut" (1965), "La Mujer Perdida" (1966), "Tuset Street" (1967), "Esa Mujer" (1968), "Varietés" (1971) and more record-breaking concert tours around the world.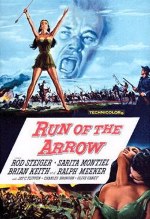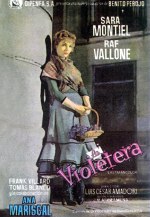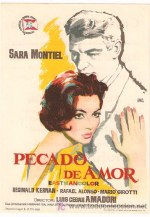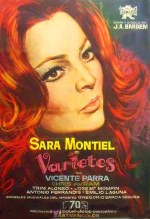 ON STAGE & TV
After starring in the 1974 film "Cinco Almohadas Para Una Noche", Montiel announced her retirement from movies complaining about the almost pornographic turn taken by the Spanish film industry after censorship was abolished in the post-Franco era.
She now concentrated on stage musicals which were highly successful: "Sara en Persona" (1970-73), "Saritísima" (1974-75), "Increible Sara" (1977-78), "Super Sara Show" (1979-80), "Doña Sara de La Mancha" (1981-82), "Taxi Vamos Al Victoria" (1983-84), "Nostalgia" (1984-85), "Sara, Mes Que Mai !!" (1986) "Sara, Siempre Sara" (1987-88) "Saritízate" (1989-90).
In the 1990's Sara surprised everyone by starring in her own television show:
"Sara y Punto", a mini-series of seven one-hour episodes which included a serialized biography of the star, many world-famous guests (including Luciano Pavarotti, Charles Aznavour, and others.) while Miss Montiel sang her greatest hits in addition to new songs written especially for her. Next came "Ven Al Paralelo", taped in a Barcelona theater where Montiel hosted, sang and acted in comedy skits in front of a live audience... The weekly series kept her busy from 1991 through 1994.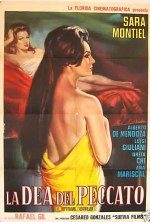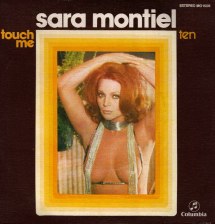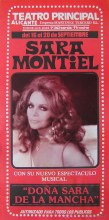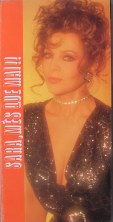 PRIVATE LIFE
In spite of all the glory that Miss Montiel achieved throughout the years, she considered motherhood the crowning achievement of her life. For years she had tried to conceive children of her own but due to a recurring physical disability she suffered several painful miscarriages. Finally she opted for adoption and in 1979 became the mother of a newly born Brazilian baby girl whom she named Thais. That same year she married her longtime companion and manager José "Pepe" Tous after her previous marriage to Vicente Ramirez Olalla was annulled by the Catholic Church. (Her civil marriage to Anthony Mann had been dissolved sometime in 1963 and Mann died in 1967)
Later in 1983 the Montiel-Tous couple adopted in Spain a baby boy whom they named Zeus. Thais and Zeus brought joy and purpose to the private life of Sara Montiel, the woman. Raising her children became the main priority to the point of taking them along in some international concert dates, whenever school duties allowed it. The family met with tragedy in 1992 when "Pepe" Tous was struck down by cancer, a painful loss for the star and for the children.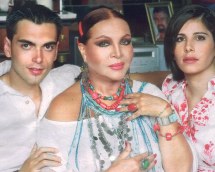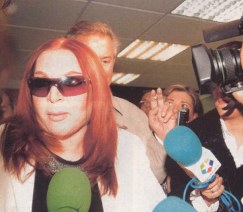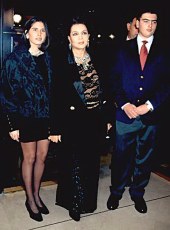 In December 2000, Sara Montiel published her long awaited "memoirs" titled "Vivir es un placer" (To live is a pleasure) in which she candidly told her remarkable story.
Four weeks after its release the book had become a best seller reaching its fifth printing in such a short time. A follow-up titled "Sara & Sex" was quickly published to satisfy the demand for more of Sara's literary output. The star kept on working, living fast and adding experiences that would fill many more volumes. After breaking up an on-off romance with Italian actor Giancarlo Viola, she began a controversial relationship with 38-year-old Tony Hernández, a Cuban video tape operator, marrying him in Madrid on October 17th 2002. By July 10th, 2003 she had filed for divorce, admitting publicly that she had "made a big mistake."
ETERNITY
It is quite impossible to cover here all the awards Sara Montiel has won in her long successful career but we must mention the "Premio del Sindicato" (at the time Spain's equivalent to the Hollywood Oscar) for best actress, won two years in a row for her performances in "El Último Cuplé" and "La Violetera"...In 1972 she was proclaimed honorary citizen of Los Angeles by Mayor Sam Yorty and was given the gold key to the city... Similarly she has the gold keys of New York, Miami and Chicago. In 1974 the Spanish government placed a commemorative plaque on the house where she was born and has, since then, turned one of the historical La Mancha windmills into a museum of the star. In 1981 she received Israel's most prestigious honor, the
Ben Guiron Award and in 1983 she was awarded France's Legion of Honor medal,
after a retrospective of her career ran at the Autumn Film Festival in Paris.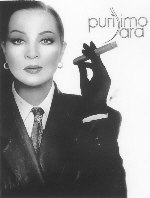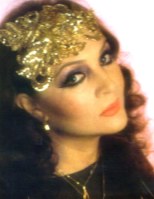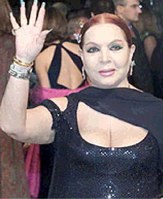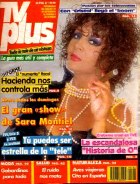 In 1986 "Nosotros", a Hollywood-based organization founded by actor Ricardo Montalban gave her the Golden Eagle Award for life achievement. The trophy was presented to Sarita by her "Vera Cruz" costar Burt Lancaster in an emotional reunion that triggered a standing ovation from all their Hollywood peers witnessing the event.
In 1997 she was awarded the "Gold Medal" , also a life achievement recognition, given rarely by Spain's Academy of Arts and Sciences . The two-hour ceremony was broadcast live by national television. In 2008 Sara returned to her hometown to unveil a sculpture with her image at the new Sara Montiel Park. A nearby avenue was also named after her and there was, at the same time, a dedication ceremony of her newly renovated museum located inside a 16th century windmill.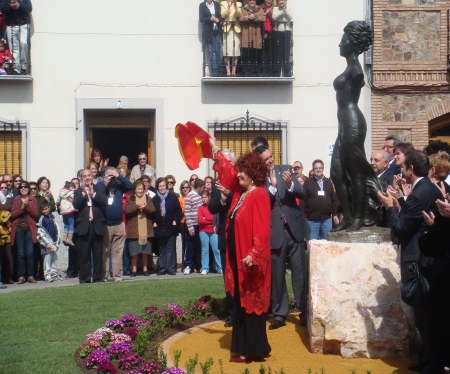 The unveiling of the sculpture (2010)
Undaunted by the passage of time and ignoring critics who accused her of mishandling her legendary image, Sara Montiel continued living and working at a hectic pace. She kept touring with her one woman show and making guests appearances on television. In 2009 she won a new generation of fans when she recorded "Absolutamente," an outrageous duet with Fangoria´s vocalist Alaska. Both the record and the promotional video reached the top of the popularity charts and remained there for weeks.
Next Sara recorded some love duets with baritone José Antonio Román Marcos and traveled to the United States for a short tour sponsored by New York's Cervantes Institute and the universities of Chicago and Cincinnati. In every city she charmed the audiences with her charismatic presence, wit, and sense of humor. Back in Spain she continued her activities which now included supporting the singing career of her son Zeus. She appeared in his 2011 "Sex Dance" video which caused quite a stir.
| | |
| --- | --- |
| "Absolutamente" the hit video with Fangoria | With son Zeus at the launching of his "Sex Dance" video in which she guest starred. |

In February 2013 Sara Montiel became the subject of a made-for-TV documentary titled "Sara's Dream" which aired in Spain to high ratings and great reviews. It was a fitting celebration of her fantastic life and career which came at the right time. A couple of months later, the star who had seemed eternal, passed away suddenly and quietly in her Madrid penthouse. By her family's request, funeral services were private but the funeral procession, organized by the city of Madrid, was a very moving event attended by thousands who showed up at Plaza Callao to bid farewell to their beloved Sara.
She was buried in the San Justo cemetery family plot but since then there have been dozens of tributes in Spain and all over the world. It doesn't seem like this unique woman and artist will be forgotten soon. One thing is for sure: there'll never be another like her. May she rest in peace.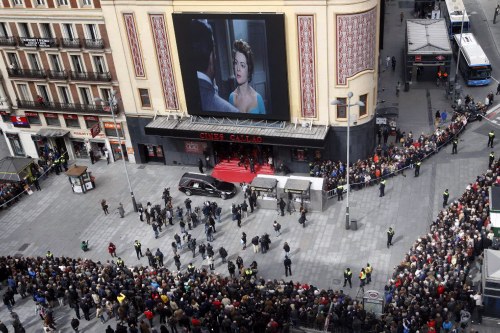 The people of Madrid bid farewell to Spain's greatest star ever!